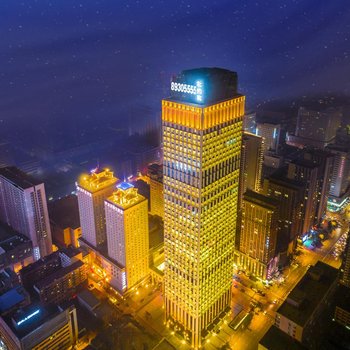 The Grand Metropark Hotel Shenyang (Shenyang Beiyueke Weijing Guoji Dajiudian) is the first Grand Metropark in northeast China, with its two palatial towers providing the setting for a 5-star stay. The hotel is ideally located in Taiyuan Street, one of Shenyang's main shopping and business areas. A 30 minute drive will see guests to Taoxian Airport and it's a 20 minute drive to Shenyang International Expo Center and Olympic Stadium. Shenyang Railway Station and Taiyuan Jie Subway Station (Line 1) are just 5 minutes by foot.
The hotel's 520 rooms and apartments are spacious and feature contemporary décor in neutral tones.
An impressive state-of-the-art ballroom is available for large scale events and various meeting and conference rooms are on hand for smaller functions and receptions. The luxurious lobby with its mezzanine, marble and chandeliers was built to impress.
The extensive fitness club boasts great exercise space with high quality gym equipment, a 24-hour heated swimming pool, spinning room, yoga studio, table tennis and snooker room. Professional swimming, yoga , dance and fitness instructors are also available.